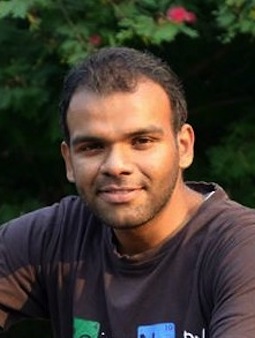 Ashwin Vishnu Mohanan
M.Tech.
Phone: +46 8 790 61 84
Fax: +46 8 796 98 50
E-mail: avmo@mech.kth.se
WWW: Personal Homepage
Room: 2606 Osquars backe 18
Education
M.Tech., Aerospace Engg., 2014: Indian Institute of Technology, Kanpur (IIT-K), India
B.Tech., Mechanical Engg., 2011: College of Engineering, Trivandrum, India
Research and Professional Activities
Geophysical flows, Turbulence
Numerical methods, scientific computing
Doctoral Project (2014 - ): Waves and vortices in geophysical turbulence
Study of energy cascade and interaction between wave and vortical modes in shallow-water turbulence.
Modified shallow-water equations to study shallow water turbulence sans shocks.
MILESTONE project: Mixing and length scales in stratified turbulence.
Core developer: FluidDyn project on Bitbucket
Graduate Project (2013 – 14): Mixed convection instabilities with and without Boussinesq approximation
Study on the

effect of heating and cooling on flow instabilities

leading to transition in mixed convection regime by using DNS and through linear

viscous and inviscid

stability theories for mixed convection
A newly developed

energy based receptivity

approach.
Developed a code based on compressible NS equation to validate the above results in a

variable density Non-Boussinesq formulation.
Publications
Please note that this list might not be complete. Follow each article link for additional authors.