KTH / Engineering Sciences / Mechanics / Courses
Computational and Applied Computational Fluid Dynamics Spring 2009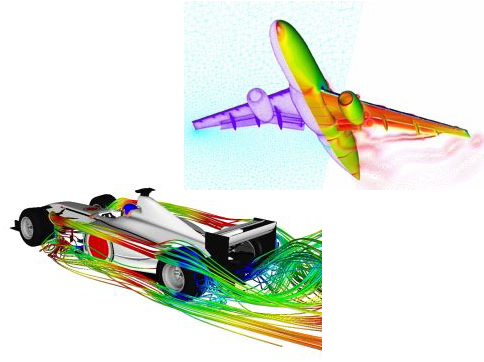 A comprehensive course on theory and practice of computational fluid dynamics, CFD, in two parts is given by the Department of Mechanics. Introductory lectures for students needing more background in fluid mechanics or numerical anlysis will be given.
SG2212/SG3114, 7.5 ECTS credits, period 3 -->

Presents modern numerical methods for steady and unsteady compressible and incompressible flow. Space discretization by finite differences and finite volumes will be applied to the Navier-Stokes equations.
Course Responsible
Ardeshir Hanifi, +46-8-790 8482, +46-8-5550 3197, hanifi@kth.se
Philipp Schlatter, +46-8-790 7176, pschlatt@mech.kth.se

Course homepage:
HERE.
SG2213, 4 credits, period 4 -->
Applied computational fluid dynamics with an introduction to state of the art software for flow simulations and visualizations. Student projects related to different industrial applications.
Course Responsible
Stefan Wallin, +46-8-5550 4318, wns@foi.se


Course homepage:
HERE.